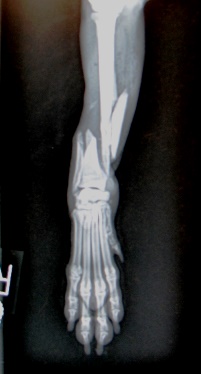 We know how you worry when your pet is sick. We all want to see them get better as quickly as possible. Since they can't tell us what's wrong, we have diagnostic tools that speak for them. We offer the highest quality diagnostic testing to help determine what is going on inside your pet's body. One of those tools is radiographs.  Just what are radiographs you might ask?
Radiographs, also known as x-rays, are a safe, painless, noninvasive diagnostic tool. Low amounts of radiation are used to create a 2 dimensional black, white and grey picture of the inside of your pet's body. Radiographs can help reveal irregularities in the size and consistency of bones and major organs; including the heart, liver, lungs, kidneys, bladder and intestinal tract.
Digital radiographs have many advantages over traditional x-ray machines. Digital radiographs are higher in quality and can be manipulated using specialized computer programming. We are also able to give you results quicker since they take less time to perform and process. If a radiology specialist is needed for consultation, they can be emailed with ease.  Radiographs are performed by the caring, well trained technicians in our hospital.
Our goal is to offer the best possible care for your pet, assuring them the highest quality of life for as long as we can. We encourage preventative medicine and early diagnosis to better treat disease.